EVERY SHOE ON OUR WALL IS THE
BEST RUNNING SHOE. FOR SOMEONE.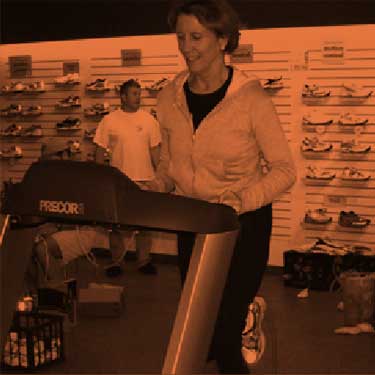 Momentum's Shoe Fitting Fanatics are determined to find the
shoe that fits you best from the category that fits you best.

It's all about anatomy and biomechanics. We start by finding
out about your training history. We then assess the wear pattern
on the shoes you've been currently using. We follow that with
a musculoskeletal screen, a running/ walking assessment, and
then we take the time to compare examples of potential shoes
from different categories.

But the most important thing we do is encourage you to take
them out on the sidewalk, where we'll observe how you actually
run in them. Because it's important to evaluate shoes by the way
they feel on the surface you run on most often.

One last checkpoint is the actual fit. We look to see you have
the correct space between your actual foot and the shoes so you
don't suffer black toenails, numbness, or other pesky maladies.

It's not until you have a proper fit that we know we've done a
proper job.

773.525.7866 2001 North Clybourn Ave. Chicago, Illinois 60614