PREPARE TO SHIFT GEARS FOR A
HIGH SPEED, HIGHLY AEROBIC WORKOUT.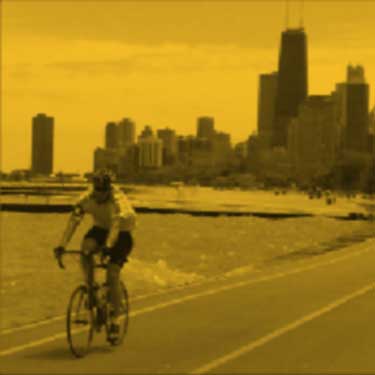 After the relatively simple and minimalist sports of swimming
and running, biking is more of an endeavor built around high
tech equipment and specialized gear that enables you a long
distance workout that includes sightseeing as one of its many
benefits.

Biking's twists and turns aren't all necessarily found on the
winding trails that bikers love. Men who plunge into it on a
serious level soon learn the value of shaving their legs, wearing
tight pants with padded bottoms, and donning helmets with rear
view mirrors. Women learn to appreciate the skin tight costumes
and amazing thigh development that comes with riding a few
hundred miles a week.

Momentum not only carries a selection of triathlon gear for
biking-oriented athletes, but several of our staff are avid bikers
and triathletes, and can direct you to the best bicycle outfitters
in the area. So feel free to stop by the store with any questions,
or just address them here, and we'll answer them as fast as
your feet spin in first gear.

773.525.7866 2001 North Clybourn Ave. Chicago, Illinois 60614